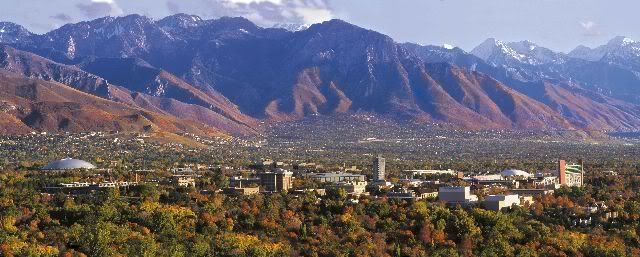 I recently spoke with a BYU alumnus and past Utah resident who is currently in an MD-PhD program but held some resentments about the admissions process at Utah as well as the application process at BYU. I don't think Utah should be responsible for all the hard feelings felt by every applicant who was not accepted. However, over the last few years, I have had similar conversations with dozens of people. Although some of this resentment is unavoidable, I think the fact that such resentments exist, especially by people who go on to be talented physicians, is a negative for Utah's image. I think some of the preventable resentment comes from a mistaken sense that the admissions process is unfair; and that Utah does not accept the "most qualified" applicants. I think this sense of unfairness comes from misunderstanding of what Utah considers "qualified." Therefore, this article details some of my thoughts on how Utah could, hopefully, prevent some of this resentment.
Most, if not all, of the information that a pre-med at BYU learns about what Utah is looking for comes from Dr. Bloxham and his "intro into medicine" course. When I applied to Utah, I was fortunate to have grown up next door to the Medical School and had the benefit of some insider information from several current Utah medical students and alumni. When I was at BYU, It seemed the things Dr. Bloxham emphasized were not exactly congruent with what my neighbor's were saying Utah emphasized. Luckily, I listened to my neighbors. But, because of this disconnect of goals and expectations, there are a large number of BYU students who get an excellent committee letter from Dr. Bloxham but end up not scoring well with Utah. Consequently, there exists a population of BYU grads who go on to have wonderful medical careers but somehow feel cheated because they feel like they did everything that Dr. Bloxham emphasizes better than everyone else but didn't get into Utah. Therefore, they conclude that Utah must not accept the best students.
Now this feeling that Utah does not accept the best students is not a trivial matter. It was such an issue while I was in medical school that the first lecture I received as a medical student focused on all the accomplishments and diversity of my classmates. I remember Dr. Judd (past Dean of Admissions) going through a list saying "Someone in this medical school class did such-and-such" and "Someone else in this medical school class became so-and-so." The presentation was very memorable. However, despite the great achievements of my classmates, several years later I recall several students needing counseling to deal with the sense of inadequacy, which was a byproduct of the Utah legislature's audit of the SOM's admission's process. So, I think that communicating very clearly about the admissions process is important not only for the image of the medical school but also the for the overall morale of the student body.
Now, I understand that Dr. Bloxham is focused on getting as many pre-meds accepted into medical school as possible and not just getting students accepted to Utah. I'm sure, in his mind, focusing on what Utah is looking for may not be the best strategy. As I see it from Dr. Bloxham's perspective, Utah is going to accept a certain number of BYU students regardless. And after Utah takes its 30-40 students, he is left with the other hundred or more qualified pre-meds. So, Dr. Bloxham has an admissions formula which maximizes the total number of pre-med students accepted to medical school overall. His formula is not designed to maximize the number of students accepted to Utah.
Dr. Bloxham's Emphasis:
1. MCAT (score 10 or better in each section)
2. Science GPA: (3.5 GPA or better)
3. Brief research experience (semester in a lab)
4. Brief clinical experience (shadow a doctor)
5. Brief volunteer experience (go on a medical vacation to Africa)
6. Pick up a quick talent (run a marathon).

Utah's Formula (Each variable is assigned a value from 1-4 based on subjective or objective criteria):
Average (MCAT + GPA + Clinical + Research + Volunteer + Diversity/Talent + Recommendations + Personal Statement + Interview + Economic Hardship)
All of Dr. Bloxam's criteria are a part of the Utah admissions equation. And, if a pre-med student does all these things he is very likely to get accepted to a medical school somewhere but probably not at Utah. While Dr. Bloxham's formula focuses on what pre-med students can do in the short term to "pad" their résumé's, Utah's emphasis seems to be looking for more "long-term" involvement, commitment, and contribution in a research, clinical, volunteer, or other activity. As my neighbor put it, "Utah is looking for someone who has really done something." You will quickly notice that the MCAT and GPA only account for 20% of the overall score. Knowing this early on, I was able to direct my efforts more into "long-term" involvement into several extracurricular areas. Even knowing Utah's formula, I was rejected my first year, initially rejected the second year, appealed, wait-listed, and then eventually accepted.
Consequently, the Bloxham formula creates a large number of excellent pre-med students who may have a 40 MCAT and 4.0 GPA; who have also done their semester in a lab, and shadowed a doctor a couple of times, ran a marathon, and then went to Africa and did some skin grafting for a couple of days and then hiked Mount Kilimanjaro; who think that there is a seat up at Utah with their name on it. These same students end up being greatly disappointed and resentful when other students with a lower MCAT and GPA get into Utah instead of them. They get a great letter of recommendation from Dr. Bloxham, they get into medical school somewhere else, but not at Utah.
On the other hand, the most attractive applicants from Utah's perspective are those who not only satisfy Utah's MCAT and GPA requirements but also demonstrate "long-term" participation, commitment, and contribution to research, clinical, volunteer and other extracurricular activities. Because of their "long-term" participation, these applicants are more likely to get several outstanding letters of recommendation, have a better personal statement, and interview better. The applicants who contribute to "long-term" extracurricular activities will score higher in these areas because they will be able to both write and speak with passion about their endeavors. Passion is the kind of thing that is extremely difficult to fudge in a personal statement and near impossible to fake in an interview.
To prevent further misunderstanding and resentment, I recommend that representatives from Utah SOM speak annually to the freshman and junior pre-med students at BYU during Dr. Bloxham's "intro into medicine" and clearly make a distinction between the elements which earn points in Dr. Bloxham's system and those "long-term" activities which will not only make these students more attractive applicants at Utah, better physicians, and better overall citizens in their communities.