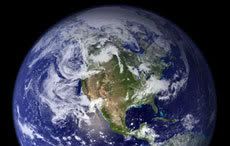 New Scientist
has published a
second article
reporting on several studies which support the theory that global warming is not due to man-made CO2 but that it is instead due to slight changes in Earth's orientation toward the sun can cause it to cool or warm in so-called
Milankovitch cycles
. Milankivitch cycles and other similar phenomenon describe variations in the Earth's axis as well as the extend of spherical vs elliptical shape of the Earth's orbit around the sun. Since the Southern Hemisphere's surface is comprised of more water than the Northern Hemisphere, if the Earth is tilted so, that the Southern Hemisphere receives more light, then the global oceans will warm to a greater extent.
The famous Artic and Antartic ice-core temperature/CO2 data mis-used by Al Gore in his "An Inconvenient Truth" docudrama clearly shows that CO2 elevations lag 800 years behind elevations in ocean temperature. This clearly suggests that as the oceans warmed by another mechanism, the warmer water disolved less CO2 which was released into the atmosphere. When the cause of ocean warming stopped, the atmospheric CO2 disolved back into the ocean.
These recent studies suggest that Milankovitch cycles are the main driver of global warming. Yes, we shouldn't pollute and yes, we should become more energy independent, but we need to be careful when the UN tries to tell us that all scientists are unified in the opinion that man-made Co2 is the cause of global warming. The UN was clearly trying to take advantage of an environmental issue to dictate global policy.